READ: Psalm 119:5 (MSG)
Oh, that my steps might be steady, keeping to the course you set.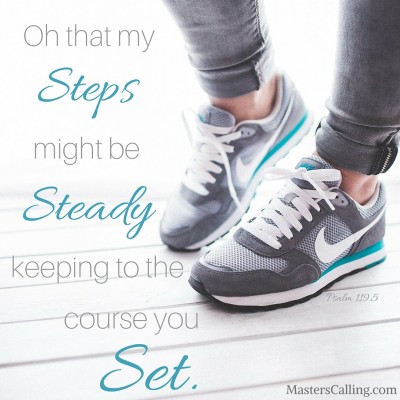 She takes a few steps forward, then pauses and turns back. I quickly learn that saying 'look straight ' doesn't stop a stair climbing fourteen month old, from repeatedly turning around.  And although I'm right beside her as she scales the steps, clearly, looking backwards unbalances those little feet.
And I don't want her to slip.
But as for me, my feet had almost slipped; I had nearly lost my foothold [Psalm 73:2 NIV].
So I place a cup of milk on the steps above and watch her attention shift to what's ahead. I suppose it's become a prize of sort, directing her focus forward. Now we stroll up the stairs smoothly and I smile deep at God's sense of humor.
He knows how to reach us, teach us, lead and direct us. He calls us to come and climb these spiritual stairs, step by obedient step. Faithfully focused on what's ahead – on the Jeremiah promise of a Hope and a Future. 
Because without Hope for what's ahead, we'll turn to what's behind. 

When I set a cup before her, she's not drawn or distracted to look back. With a prize in sight, her gaze stays straight and her steps remain steady.
I have set the Lord always before me; Because He is at my right hand I shall not be moved. [Psalm 16:8]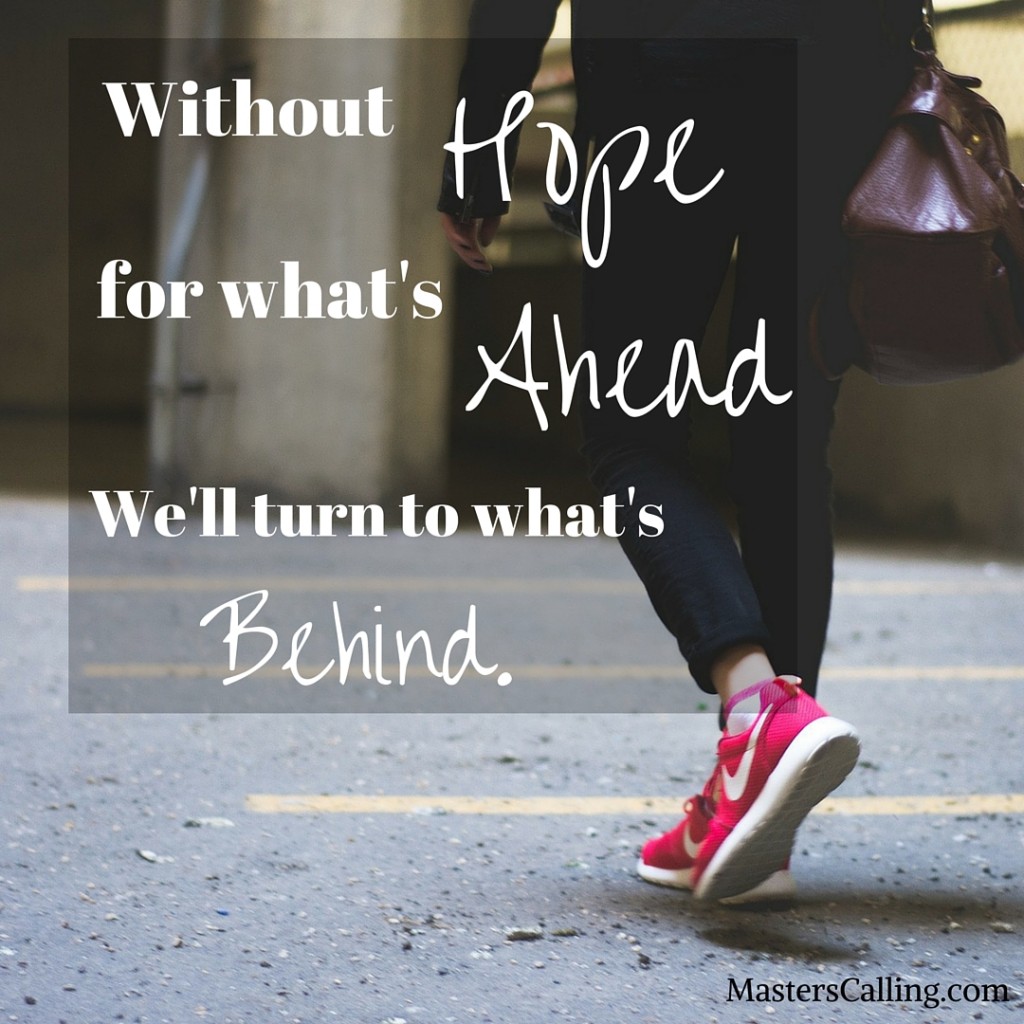 Rather than exert my energies focused on past disappointment and discouragement, I place the prize, the promise, the pursuit before me, directing my thoughts forward and my heart heavenward. Because where our thoughts are directed, our hearts are headed.
Paul proclaimed, this one thing – the one thing, to steady my heart and secure my footsteps firm. "But one thing I do, Forgetting those things which are behind and reaching Forward to those things which are ahead, I press toward the goal for the Prize of the upward call of God in Christ Jesus. [Phil.3:13-14 NKJ].
Forgetting is about Trusting. It's entrusting all our yesterday's to His Eternal care.
Because to receive New things – we must forget the former things! "No one pours new wine into old wineskins." [Mark 2:22] So together . . .
"Forget the former things; do not dwell on the past.
See, I am doing a New thing! Now it springs up;
do you not perceive it?
I am making a way in the wilderness
and streams in the wasteland.
[Isaiah 43:18-19 NIV]
Sometimes the bravest thing you can do is forget – forget the former things. To forsake the thoughts that stick like webs of worry from what happened back then, way back when or even last week.
Because truth reminds me – past disappointments are not an indicator of the hope and future God has promised.  [Jer. 29:11] "Plans to prosper you, not to harm you."
Not to harm you.
Press repeat on that Word. Allow it to drive out doubt, despair and defeat, because Isaiah speaks – A New Thing! When we start repeating His Word in our hearts, we'll stop distracting thoughts from replaying in our minds. 
And I can only escape present distractions, when I'm entrusting past disappointments to Him. Because it's nearly impossible to step firmly and securely forward, if we're focused and fixed on the former. Oh, that my steps might be steady, keeping to the course you set. [Psalm 119:5 (MSG)]
Friends, don't let the former cause you to fear the future. It's a new year, a new season, a time for new strength, new service and new crowns of courage!
My daughter watches Psalty, the singing songwriter. She moves to the music and I stand in silent awe of the powerful, yet personal way He reaches me. I sense a sweet and strong impression through the sound of a child's video and my grown-up self, prays for a childlike faith.
Not faith to conquer giants, climb a mountain or feed a multitude. But the faith to take my Father's hand, forget what's former and look for the Hope of what's ahead. To focus forward on the prize, the promise, to place that cup, that Word, ever before me. Because Psalms says my cup, your cup – it overflows.  Psalm 23:5 "You anoint my head with oil; my cup overflows."