Do you ever struggle to tell God out-loud, the burdens and concerns of your heart? Or do you feel pressure to be proper, perfect and with prose, hold yourself together.  
In the weary moments, when your emotions are raw, your joy is drained and your strength feels more like dust under dry bones, do you find it difficult to come – just as you are to Jesus? To let the weight of your breaking tears slip upon His eternal shoulders. 
We stood by the river side, fallen leaves dancing beneath our feet; hers having traveled many trying roads; yet steady and secure, she stood beside mine. As the gentle breeze surrounded us, her soft words echoed His, breathing renewal and a quiet refreshing.
Cusping my hands with honest compassion, a message she conveyed: Just fall into Jesus, Jess. Let Him love you, just as you are, right where you are.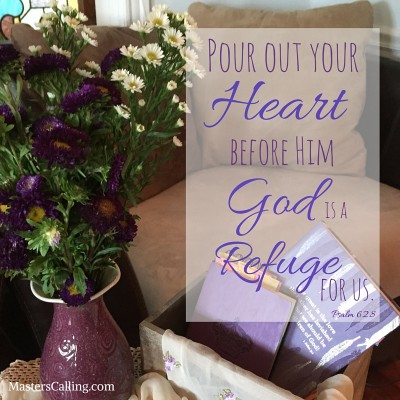 Sometimes I just need to collapse into the comfort of His care, knowing He is strong enough to bear my every burden. For I don't need to be strong for God – for He is the ONE strong in me. 
He sees past the forced smiles, labored laughs and all the ways this try-hard heart tries to hold itself together. 
There's no pretending in His presence. So come, just as you are, right where you are.
And when your strength is spent and all you can offer up, is to lay your burdens down, let it be known – that is your offering – it is enough. 
I often feel so undeserving of His aid, His attention, His willingness to listen; lest I bring Him something in return. But the simple act of coming just as I am, is an offering. It's entrusting my heart to the refuge of His. David often came in his despair and in doing so, it acknowledged in whom his hope was found. 
I can show up with nothing but dirt on my feet, mud on my heart, and His welcome mat will still be set out for me. No matter how much sin, sorrow and soot I wipe off, that welcome won't ever wear out, because His Word will never fade away. [Isaiah 40:8]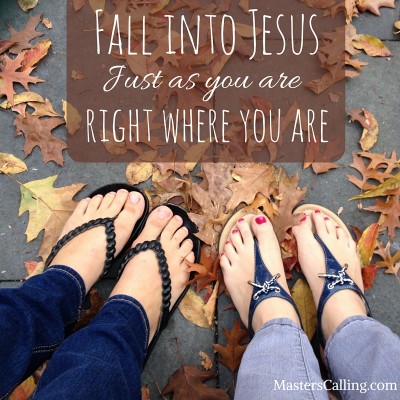 We are not called to bear our burdens, we are invited to bare our hearts.
To trust, to fall, to lean; to share our secrets, sensitivities and stories. To lay heavy tears on hard floors and find holy, healing ground; to press laden hearts in soft pillows and discover a secure dwelling. 
When we come to Jesus just as we are, we see Him, as He truly is – merciful, gracious and kind.
"Let Him love you Jess, let Him love you. If there's anything I could tell you, it's to let Him love you, just as you are, right where you are." Such timely comfort to carry us through considerable life changes, a betrayal that feels bigger with every blow and the grieving from the unexpected passing of my husband's dear father. 
But with Autumn still around, some leaves continue separating from their branches, and with each one that falls, I hear my Savior call: Just fall. Fall into trust, Fall into rest, Fall into me. 
Scripture for your heart:
Trust in Him at all times, you people; Pour out your heart before Him; God is a refuge for us.  Selah
[Psalm 62:8]
Song for your soul:
By: Ruth Gado Coleman (dear friend and sister)