The power has been out for days in my area. Cell towers hit by a recent storm and power lines on the ground leave many without communication – except good old fashion, face to face, live in person, kind of connection.
The young man behind the counter stirs some sugar and before he secures my tea with a lid, he asks, "Where do you live? I haven't had cell service for days." He appeared lost, frantic and confused – the power outage seems to have caused a communication crisis.
What do we do when a connection is interrupted, dropped or even lost? When our prayer lines to people have no reception and the only thing we sense is interference and when our comfortable places are being severed through a storm, disconnected and detached from the life-line of our hearts – what then?
Could it be that God is communicating a message through the broken silence? 
Because sometimes, interruptions are blessed indications of His divine involvement – calling us to come closer, come higher. 
Then the Lord said to Moses, "Come up to Me on the mountain and be there . . . that you may teach them." [Exodus 24:12 NKJ]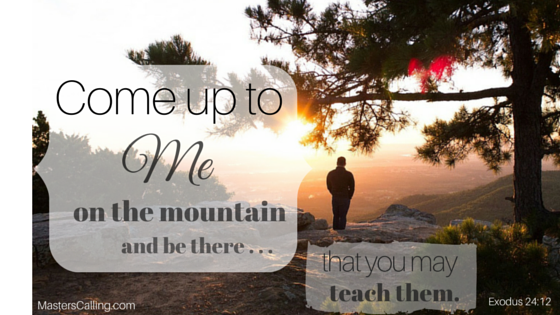 "Come up to Me."

In order for Moses to go up to the mountain – he had to leave some things behind. Even those he served with could only go so far, so he traveled the rest of the journey up – solo.
"Come up to the Lord, you and Aaron, Nadab and Abihu, and seventy of the elders of Israel, and worship from afar.  And Moses alone shall come near the Lord, but they shall not come near; nor shall the people go up with him." [vrs. 24:1-2]
It may have appeared to be an honor, only Moses got an invitation – to a mountain, to meet with God! However, I imagine 'honor', was the last thought on Moses' mind as he parted ways with his accompanying companions.
This beckoning to come draw closer, comes with the cost of unreserved surrender – willing to leave some valued possessions behind, in order to obediently follow Him for what's ahead. For a time, Moses had to leave the comfort of people, to pursue the place God was calling him to.
He had to forget the former, in order to move forward.

"Brethren, I do not count myself to have apprehended; but one thing I do, forgetting those things which are behind and reaching forward to those things which are ahead." [Phil. 3:13]
In some seasons, drawing nearer to God's presence, possibly means stepping away from the presence of man.  
[Insert sigh..] 
Moses on the mountain – far from man, but ever near to God.
Woven throughout the Word, is this similar pattern of 'calling one to come'. To forsake the familiar, leave the comfortable and follow God – alone to the unknown. Obscurity and loneliness seem to be an integral part of preparation – instrumental for training, equipping and strengthening servant-leaders.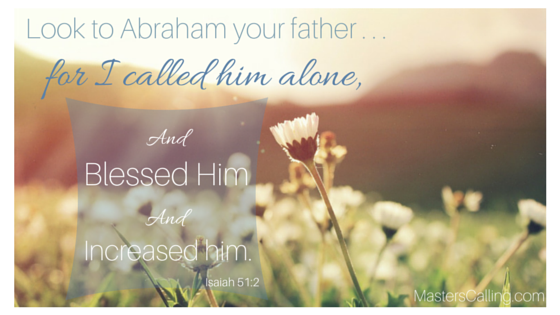 "Look to Abraham your father . . . for I called him alone, and blessed him and increased him." [Isaiah 51:2]

Moses had to enter the mountain alone. No one can enter the inner courts of intimacy with us – it's an individual pursuit. But, Moses didn't stay up there! "And the Lord said to Moses, 'Go, get down'!" [Exodus 32:7]
We're called to go get down and deliver the message of love, truth and grace; not just from our lips or the platform of ministry – but through the message and pulpit of our lives.
God gave Moses tablets of stone with the law and instructed him to "teach them".
"I will give you tablets of stone, and the law and commandments which I have written, that you may teach them." [Exodus 24:12 NKJ]
Indeed, Moses left Glory on a mountain to give God's Word, but Christ gave up the grandeur of heaven to give us the gift of the gospel. And I'm so thankful Love came down, freeing us from the hardened tablets of our hearts and gave us the law of the Spirit of Life! [Romans 8:2]
The call to higher heights can come with solitary seasons. But there is purpose and God's plan is always trustworthy. For what we receive on the mountains of prayer, intercession and intimacy; we will speak, share and serve, as we "Go get down".
Friends, when connection to your familiar places are fractured, when prayer and power lines can no longer provide good reception and when the Master is calling us to come closer, come higher (alone) – have courage, take comfort! He's got glory to show, a Word to speak and wisdom to share. And He offers an unbroken, uninterrupted, never out of service, never down – line of communication.