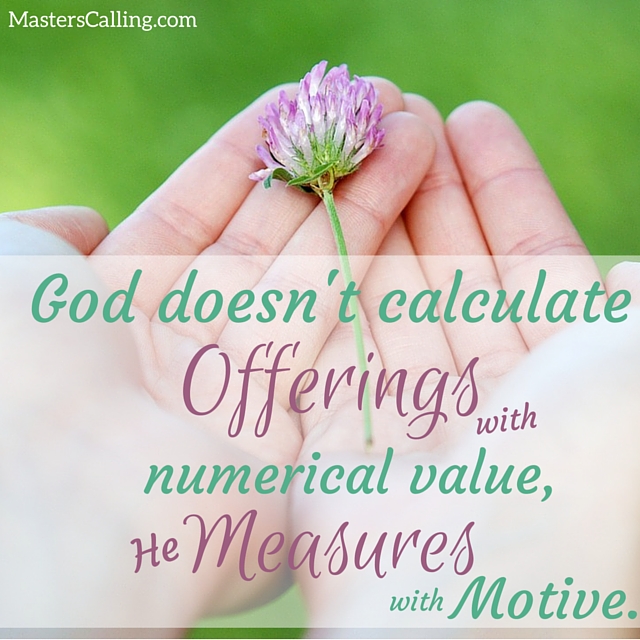 READ: Mark 12:41-44
I've been studying through one woman's story and I sense surrender breaking through the rocky soil in my heart. Mark depicts the tender moment and my eyes moisten with conviction.
Then one poor widow came and threw in two mites, which make a quadrans. So He called His disciples to Himself and said to them, "Assuredly, I say to you that this poor widow has put in more than all those who have given to the treasury; for they all put in out of their abundance, but she out of her poverty put in all that she had, her whole livelihood." [Mark 12:42-44]
What does vulnerability look like for you? Is it a particular place, specific person, or certain circumstance, which makes your stomach flip with internal gymnastics? Does expressing a need, asking for help or admitting a weakness, make your tummy turn with timidity. When you're insulted or injured, does remaining silent make you feel unguarded and defenseless? Does the thought of giving (your time, energy, encouragement or resources), when you are lacking and in extreme need yourself, feel risky or even reckless?
Because this woman, a widow, was perceived to be in an extremely vulnerable position. Yet we find that in the midst of an unpredictable place, accompanied by great loss; she places her confidence entirely in God – to the point she gave out of her own need. 
Her own need . . .
Out of need, desperation and poverty, she poured out – all she had. What a vulnerable position, yet she arose to a victorious place, entrusting her entire life and livelihood to God. Even with the uncertainty of tomorrow's needs, there was no reserving or withholding; instead, the widow radically worshipped.
Because victorious living, isn't about living on mountains, it's about walking in valley's in what's unknown, unanswered and uncertain, and yet choosing to live with unreserved surrender. 
I can't control every circumstance, but I can control my choices in them. I can decide to let vulnerability unravel and release me into victorious living.
Her gift was by no means attention grabbing or crowd gathering. Certainly nothing the congregation noticed. Her two measly mites quietly reached the receptacle basket. All the commotion and clanging noise from massive contributors must have muted them out. And then there was all the fanfare buzzing around about the bucks that made the biggest bang. 
But there was one who observed her offering. One who watched and discerned, one who recognized the immeasurable weight of surrendering all that she had.
Though her mites hardly resounded in the ears of man, they resonated heavenly in the heart of Christ. What the crowd misses, Christ always sees.
Sometimes our generosity receives little gratitude and our efforts and love go unnoticed; sometimes our service feels unappreciated, and our well-meaning intentions are undermined. And if you're with me and this resonates, rest assured, what seems overlooked by man – the heart of Christ observes. And His reward spans far wider, broader and deeper, than accolades, applause and appreciation.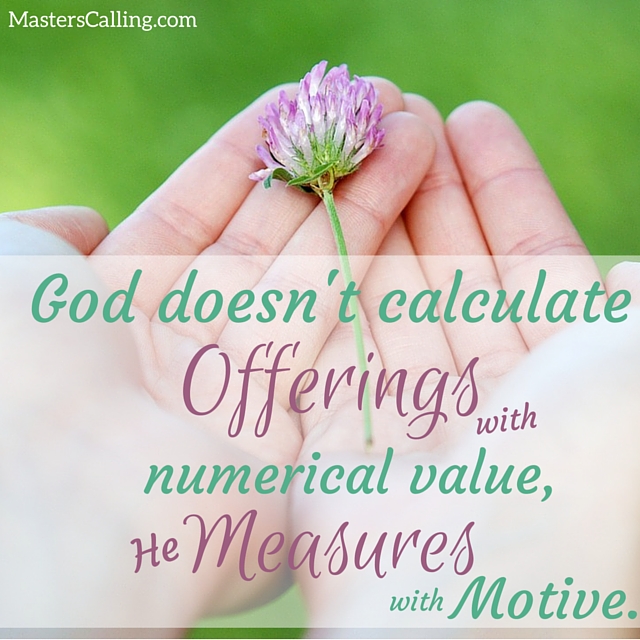 The offerings of our hearts may not seem like much to some. But that's part of real giving. Giving vulnerably and secretly, quietly and silently. "Not with eye service, as men-pleasers, but as bondservants of Christ, doing the will of God from the heart" [Eph. 6:6].
Jesus watched, saw and observed – how they gave.
Now Jesus sat opposite the treasury and saw how the people put money into the treasury.  [v.41]
God never calculates offerings with numerical value,


He measures with motive.

"Assuredly, I say to you that this poor widow has put in more than all those who have given to the treasury. For they all put in out of their abundance, but she out of her poverty put in all that she had." [v.43-44]
Out of surplus or out of surrender?

Many emptied out of the surplus of their pockets, the widow out of her surrender, opened her heart and poured her entire life out.
When you extend that word of encouragement, when you serve and love, and show up when you're empty and exhausted; that's where vulnerability becomes victory and those silent, quiet mites, become piercing sounds, pleasing to heart of God.  
Whether your 'All' looks like the grand canyon or like granular sand – God sees. He sees the hurdles you topple in hidden places, he sees the stuff you battle behind the stage of life, He sees your praises in pain. And if your belief feels like a mustard seed, just remember – Jesus said it's all you need! For when two mites become the sum of your surrender – even that can move mountains! 
God is not looking for extraordinary gifts,
He looking for ordinary people,
wiling to extravagantly entrust 'All' to Him.

Don't compare your mites to anyone else, because your surrendered 'all', is worth more to God, than a multitude of offerings given out of surplus.
How might you welcome vulnerability into your life, right where you are? How might this story stir you on to surrendering your two mites, knowing God sees every silent offering and surrendered yes?